Power Clean - Antivirus Cleaner and Booster App v2.9.9.3 [Mod Debloated]
Requirements:
4.1+
Overview:
Power Clean, as a professional Android Cleaner & Optimizer, is the first choice of over 100 Million users all over the world.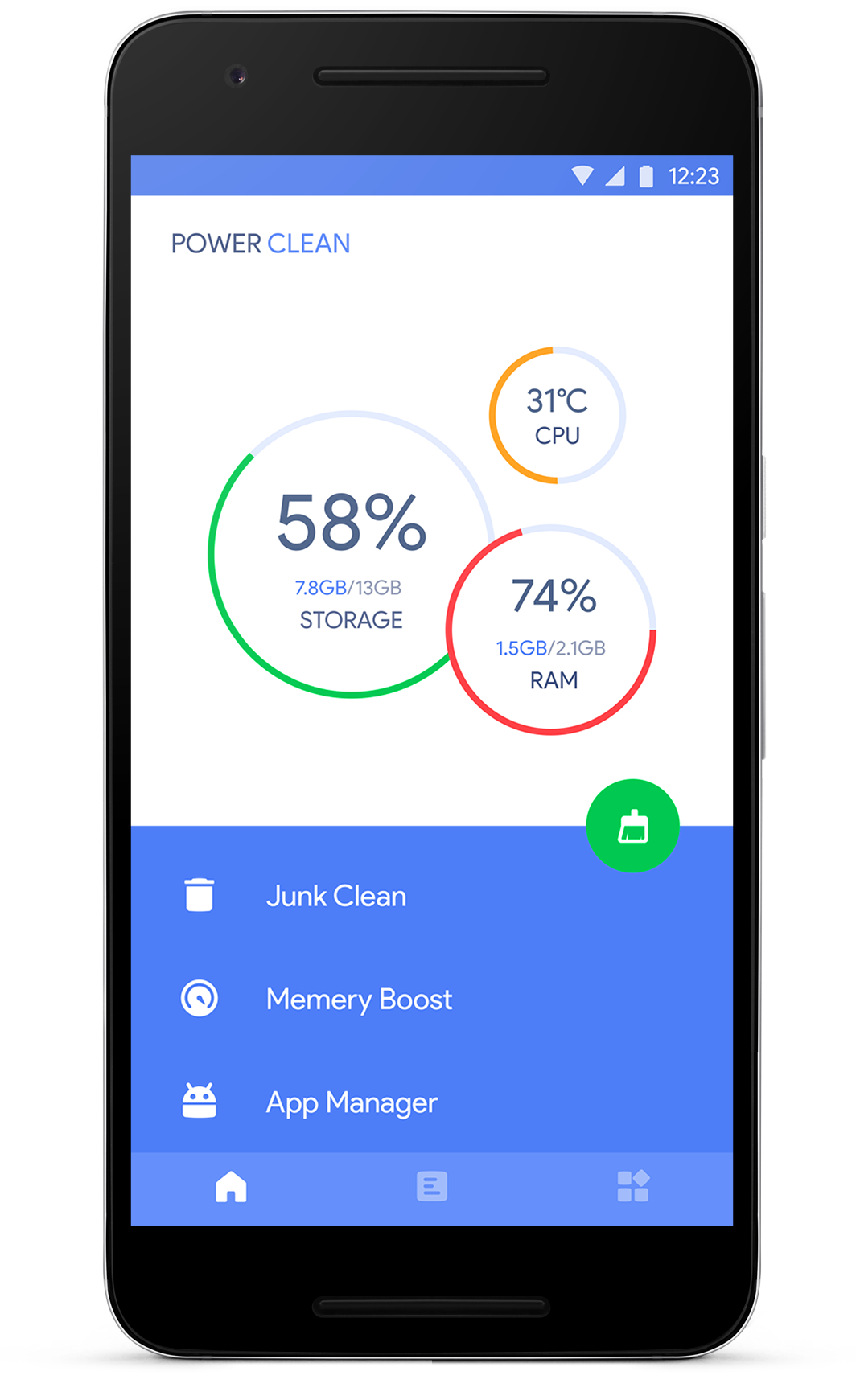 How does Power Clean help to improve your device performance?
★Speed Up Phone Performance★
Power Memory Cleaner (Power Boost) and RAM Performance Booster (Memory Booster) of Power Clean speedup your android phone and optimize your device performance.
With these two speed booster modes, you are free to speed up your phone in different ways. The RAM Booster(Memory Booster)quickly scans device and boosts mobile phone with effective RAM Cleaner; the advanced speed boost (Power Boost) detects auto start apps and allows you to stop those you don't want.
★Junk Cleaner for Android Phone★
The volume booster for Android free up your device storage space by cleaning cache creek, obsolete APKs, residual junk files, AD cache folders and other types of system junk file. The junk removal is fast and secure.
► Intelligent Junk Removal App
Power Clean is a smart cleaner and booster for Android. The junk remover and clutter cleaner library (2017) is the most updated one. It tells junk files from usable files accurately.
► Cache File Cleaner for Android
Power Clean cache cleaner for android includes system cache file reviewer, AD cache file reader, and junk removal cache clean functionality.
► Residual File Cleaner
Power Clean is detect & delete apps residual junk. The residual cleaner and its residue clean up function cleanup android store space taken by residual files.
► Duplicate Photo Finder & Remover
Duplicate pictures on device also are very likely to take storage space on your Android. With Power Clean duplicate photo remover, it becomes easy to delete duplicate pictures. The photo storage manager (Duplicate Photos) recognizes similar pics and keeps the best one for you.
► App Manager for Android
The App manager iii lets you know the storage space your apps are taking. The easy uninstaller helps you to delete apps you don't want.
★CPU Cooler Master★
Power Clean integrates CPU identifier, CPU temperature monitor and CPU Cooler for Android. The cooler app and cooler widget: CPU Cooler Master - Cooling Android cool down the CPU temperature by kill background processes from draining apps and shut down apps running in background.
★All in One App Notification Bar★
Notification bar customization of Power Clean makes it easy to encapsulate alert from apps of lower priority and cleanup app notification bar. The tidy cleaning notification bar allows you to focus on the notification you really care about.
AppLock Pro: App Password Lock
Power Clean App Lock 2017 (AppLock) allows you to set password for Apps. AppLock protect privacy for any apps on your device.
Battery Widget: Power Battery Saver
Power Clean and its battery saver show you the battery percentage and optimize battery life for your Android phone and tablet. It detects draining battery apps and save battery by kill draining apps' background processes. The lock screen battery saver makes the battery charger more effective.
WHAT'S NEW
1. Fix a possible crash issue of AppLock
★★★ MOD Debloated: ★★★
Ads Removed;
Sponsored banner layout removed;
All ads calls from Activity removed;
All ads banner layout in tablet mode removed;
Native admob + mopub ads banner layout removed;
Charging Lockscreen ads resized to 0;
Facebook Interstitial and native ads layout resized to 0;
Suggested lionapps disabled on result page;
Forced more features disabled on result page;
Send anonymous stats disabled by default;
Family Lion ads icon removed from toolbar menu;
Family Lion ads icon removed from new menu;
Clean exit no features ads popup.
This app has no advertisements
More Info:
Code: Select all
https://play.google.com/store/apps/details?id=com.lionmobi.powerclean
Download Instructions:
Hidden Content
This board requires you to be registered and logged-in to view hidden content.