WiFi Manager v4.2.3-204 [Mod Lite]
Requirements:
4.1+
Overview:
Find, connect, manage WiFi networks. Improve connection quality with a graphical channel radar. Discover open networks around you.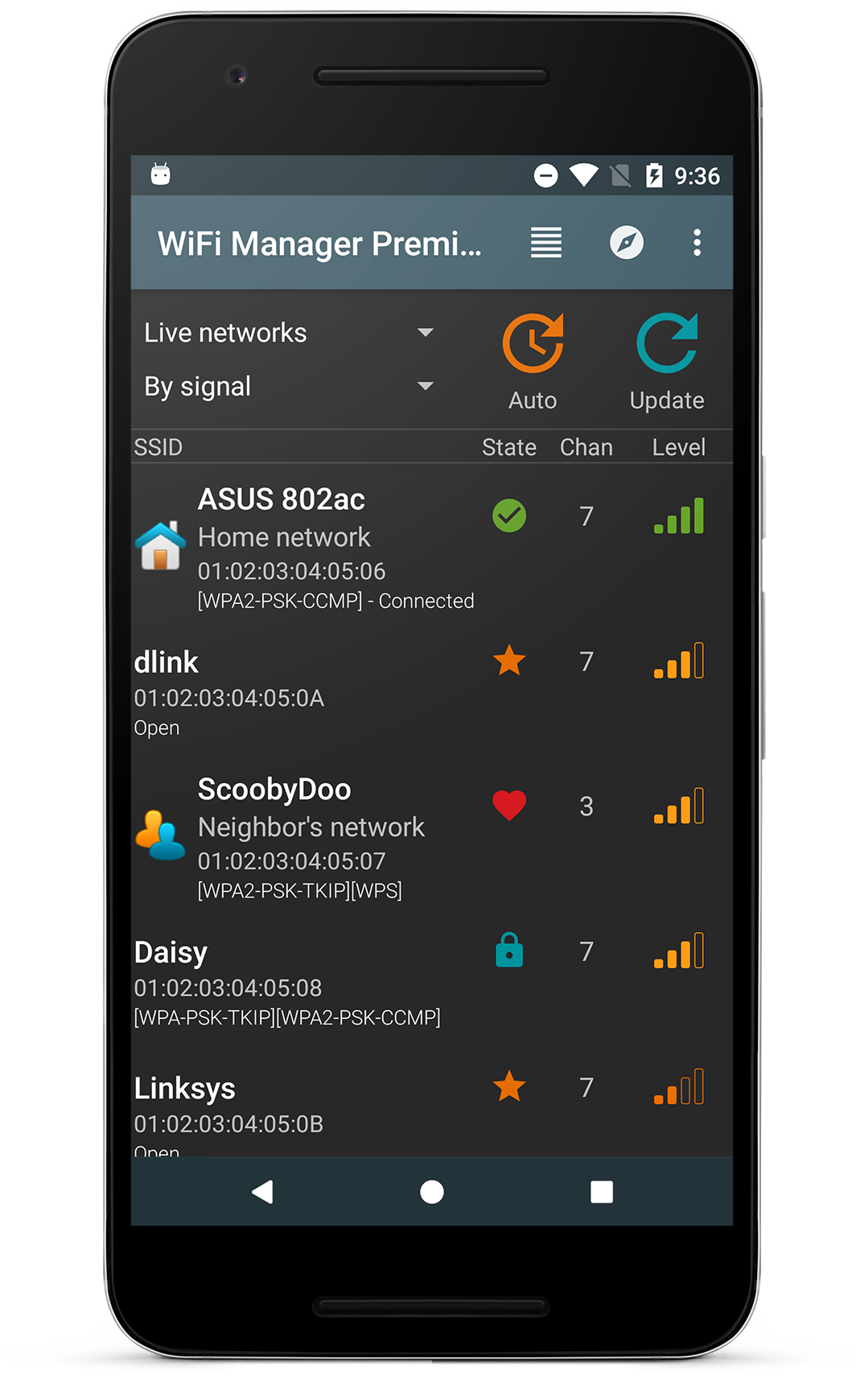 Includes home screen widgets: one displays detailed connection info, another lets you switch among your favorite networks with a single tap, and yet another toggles WiFi Access Point.
Can scan for and switch to the best network out of several configured.
New and improved:
• "Material design" widgets (version 3.5).
• A UI redesign (version 3.0): modern looking icons, swiping between list and radar views.
• Assign your own descriptions and icons to individual WiFi networks - never forget what that "XYZ1234" network is;
• Switch among your favorite networks with a single tap by using the WiFi Network Switcher widget. It will even enable WiFi if needed.
• "Best network" to switch between different networks you may have around the house or office (off by default, enable in app settings);
• Automatic switching between fixed and dynamic (DHCP) IP addresses (Android Settings in 2.* can't do this);
Some features require that you purchase the $1.75 premium package, available right in the application through Google Checkout (safe, secure).
These features are: advanced per-network options (description, icon, IP address), the one-tap network widget, and two widget themes inspired by Android 5.* (Material Design, since version 3.5).
All the other - essential - features are free: the widget with detailed connection info (four sizes, two free themes), scanning and connecting to networks, the network list view, the network signal radar.
Orders are processed and saved by Google and can be reactivated after a phone reset / flash, or on a new phone.
About requested permissions:
"Change system settings" is needed to switch between fixed and dynamic IP addresses, if configured so.
"Prevent phone from sleeping" is needed so you can enable automatic scanning and discover open networks around you.
"Read USB storage" for notifications about open networks, when enabled, and the sound file is picked from the memory card.
"Market billing service" is needed to make purchases.
•••
Since version 2.5, supports per-network IP address and proxy server settings on Android 3.* / 4.*, included in the free version.
•••
If you have an issue or a question, please contact me at
[email protected]
(email is also shown in the about box and below).
•••
Also - a visually matching Bluetooth toggle widget. Find it below under "Related" and "Developer Info".
WHAT'S NEW
4.2.3:
- New setting: "easy mode" combines networks based on SSID (how it used to work before 4.1).
- Tether widget disabled on Android 8.0+ (thanks Google for a "security improvement")
★★★ MOD Lite ★★★
Based on Premium version
Optimized graphics and cleaned resources for fast load < improved result (1.42 MB total size);
Encrypted all resources;
All ads and services calls from activity removed;
Languages: En, Ru.
This app has no advertisements
More Info:
Code: Select all
https://play.google.com/store/apps/details?id=org.kman.WifiManager
Download Instructions:
Hidden Content
This board requires you to be registered and logged-in to view hidden content.