5217 for improved productivity v4.0 [Unlocked]
Requirements:
5.0+
Overview:
According to findings from The Muse, frequent breaks throughout the day can improve productivity.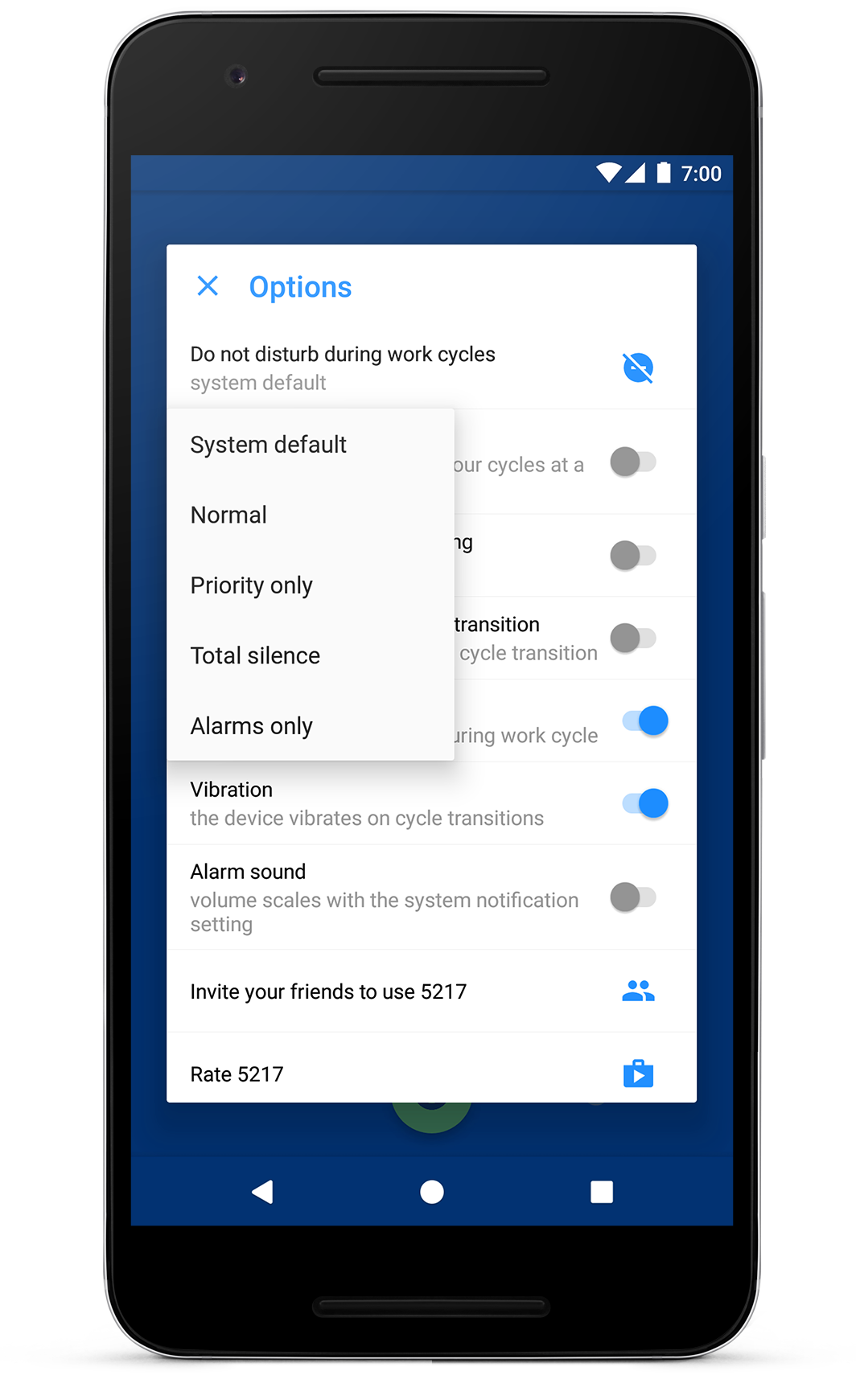 According to findings from The Muse, frequent breaks throughout the day can improve productivity. Specifically, a piece published in the summer of 2014 found that the most productive cycle is comprised of 52 minutes of work followed by a 17 minute break.
5217, as you might have guessed, is a tool to record that cycle.
With beautiful but subtle transitions, encouraging messages, and playful alarm tones, 5217 gently guides you through your work, allowing you to share how many cycles you were able to complete in a day when you're done.
With native Android™ Wear support you can Start, Stop and interact with its notification to glance the time left on your cycle directly from your watch. It's beautiful and convenient!
It's unique, it's experimental, and it's beautiful and fun too. If an hour of your time is worth more than $0.99 (it is), then this app will pay for itself :)
It's currently translated in Chinese Simplified, Czech, Danish, Dutch, English, French, German, Greek, Hebrew, Hindi, Indonesian, Italian, Norwegian, Polish, Portuguese, Romanian, Russian, Slovak, Spanish and Turkish.
Visit
https://github.com/franciscofranco/5217-localisation
If you wish to contribute with translations.
The Muse:
https://www.themuse.com/advice/the-rule ... oductivity
The Muse is a copyrighted brand by © Daily Muse, Inc
WHAT'S NEW
5217 4.0 is here! Pretty big release I might say. You can finally use your own custom timers instead of the default 52-17. Mind you, "5217" is still the brand of the app so this new feature is unlockable via in-app purchase just for those who really want it. If you've donated before this will be automagically unlocked. Also a new feature to set your own break period message instead of displaying the presets. Android Wear 2.0 support is also here
Thanks for all the support!
This app has no advertisements
More Info:
Code: Select all
https://play.google.com/store/apps/details?id=com.franco.timer
Download Instructions:
PRO features Unlocked | Analytics disabled
Hidden Content
This board requires you to be registered and logged-in to view hidden content.