QuickLyric - Instant Lyrics v3.6.1 build 231 [Premium]
Requirements:
4.0.3+
Overview:
A fast, beautiful, hassle-free app to instantly fetch lyrics while you're listening to music.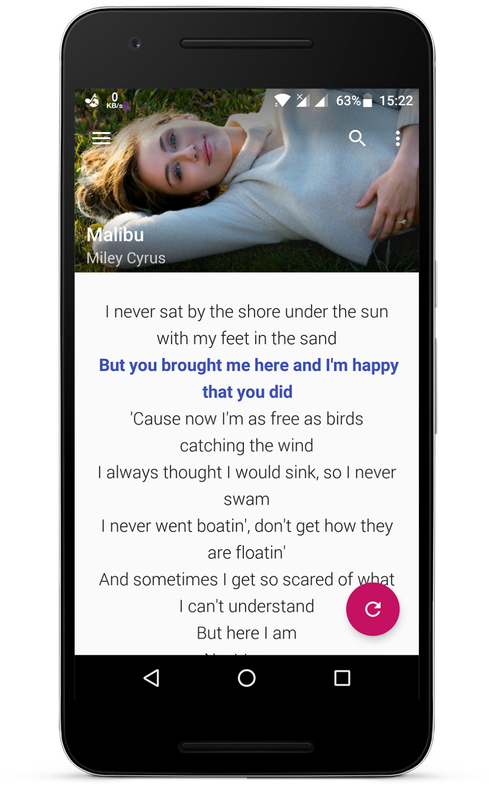 Countless lyrics app either bother you with a notification or force you to manually type the name of the song every time it changes. QuickLyric solves that issue.
The app monitors the music apps on your device to know which song you're listening to. The lyrics you wanted will then be waiting for you as soon as you open QuickLyric.
Get rid of all the hassle and instantly access your favorite lyrics. On top of that, QuickLyric makes it easy to store lyrics for offline access and even to manually search for lyrics.
Key features:
• Instant access: When the song has changed, simply tap a button to refresh the lyrics.
• Purposeful design: New, fluid, material design that is intuitive and delightful.
• Offline Access: Easily save lyrics on your device.
• System Integration: Open QuickLyric from the browser or even your favorite MusicID app.
• Android Beam: Share lyrics with your friend via NFC!
• More than 15 languages supported! Including English, Arabic, Dutch, French, German, Greek, Hindi, Hungarian, Italian, Japanese, Portuguese, Russian, Spanish, Turkish and more.
• Support: Fast, reliable email support (English only)
• Open Source: Do you feel like the app is missing a certain feature? Anyone can contribute code to the project or report issues.
QuickLyric is supported on devices running Android™ 4.0, Ice Cream Sandwich and above.
WHAT'S NEW
• Massive performance improvements in the process of audio files identification
• Fixes app not refreshing on Android 4.x
• Fixes issue where you could not identify music with your microphone twice in the same session
• Fixes bug where it wasn't possible to move the app to the SD Card
• Imported translations
• Other Bug fixes
This app has no advertisements
More Info:
Code: Select all
https://play.google.com/store/apps/details?id=com.geecko.QuickLyric
Download Instructions:
PREMIUM features Unlocked
Hidden Content
This board requires you to be registered and logged-in to view hidden content.